Not your actual date, as in the person. I mean the date the two of you are on is dead. Finished.
Done.
Over.
Horrible.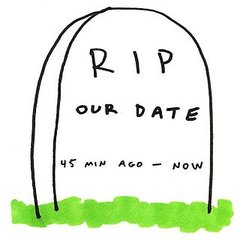 Just about any woman can give you a dating horror story. I've heard stories of women being left at a restaurant because her date's ex went into labor (with his baby). I know a woman who went on a first date with a guy who promptly informed her that the two of them should be exclusive. On the first date. Oy.
I've (luckily) not been on a date
that
bad. I
have
had guys choose the restaurant - then hand me the bill. That's always fun.
I'm going on vacation (with my favorite cousins, so there will be no horror stories). There will definitely be posts while I'm gone, but feel free to use this post as an open thread to tell your worst (or best) dating stories.